A catering business provides food for private events such as parties, family gatherings and wedding receptions at a location other than a permitted restaurant.  Food is prepared at an approved catering kitchen for service to a predetermined number of invited guests at a catered event. Caterers can also serve food at a permitted Host Facility.
If you already own and operate a restaurant approved for food preparation, you may expand your operation to include catering with no additional fees or permit requirements. However, it is necessary to review and discuss the operational aspects of your catering operation with your Environmental Health Specialist (EHS) to ensure food safety standards are maintained.
There are two types of Catering Businesses:
Shared Kitchen Caterer:  A catering business that sublets space from an already permitted  kitchen.
Independent Caterer: A catering business that operates solely as a catering kitchen under a caterer's permit.
*If you are starting a new Independent Catering Business, plan submittal may be required.
Please visit our PLAN CHECK page for more information.
Image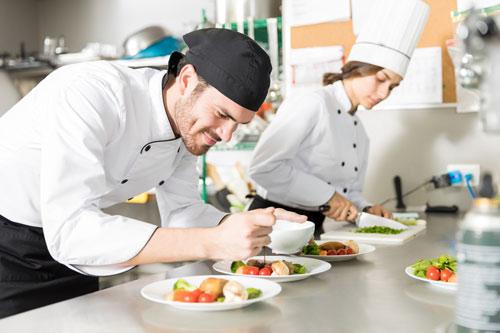 Image
Interested in Starting a Catering Business?
Before starting your catering business, complete the following documents, and contact your local area office to make an appointment for an inspection with an EHS.
The following documents will also be required during your inspection:
Menu
Business card or photo of business sign
Valid registration for catering vehicle
Valid Driver's License
*The above listed documents are required to be completed for initial permitting inspection, and for annual renewal inspection.
Host Facilities
Breweries, wineries, commercial buildings, and other approved locations that meet infrastructure and operational requirements can become a Host Facility for permitted caterers.  This permit allows caterers to serve food with limited preparation at a Host Facility for 4 hours within a 12-hour time period.
Interested in Becoming a Host Facility?
Before you begin operating as a Host Facility, please read this document in English or in Spanish for details.  Please visit our PLAN CHECK page for more information.